Dr. Shi Xiaodan, General Manager of Dongsheng New Material, was awarded the "2019 Pioneer of High-tech Achievements Transformation".
Recently, sponsored by Shanghai Science and Technology Entrepreneurship Center, "Shanghai Hi-tech Achievements Transformation 100 Best Annual Meeting 2020" was held in China Financial Information Center. Dr. Shi Xiaodan, General Manager of Shanghai Dongsheng New Materials Co., Ltd., won the honorary title of "2019 Pioneer of High-tech Achievements Transformation".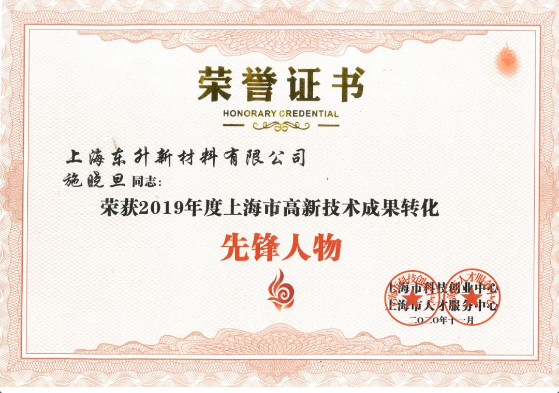 Dongsheng New Material always adheres to upgrading products by scientific research and developing enterprise strategy by innovation. In the development of the company at the same time, pay attention to scientific research investment, technological innovation, brand optimization; We have signed strategic cooperation agreements with scientific research institutes, industry associations, universities and other relevant departments. We have continuously increased our research capacity and introduced a large number of scientific research talents and experimental equipment. The company's research and development center in Shanghai is mainly focused on the development of new products to continuously enhance the core competitiveness of the company. However, the application technology center, located in Shandong, is customer-oriented, takes product application and improvement as the main function, adheres to the corporate values and the concept of green and sustainable development, and escorts the independent research and development and technological innovation of enterprises. Actively promote the transformation of high and new technology achievements, really achieve the scientific research into productivity. Has produced a good social and economic benefits, the company has also been a considerable development and recognition.
The New Year has come, and a new journey has begun. Dr. Shi Xiaodan will continue to lead Dongsheng New Material to move forward, drive the development of the enterprise with products, and grasp the direction of scientific research technology and industry development. Constantly improve the level of scientific research and innovation, to make greater contributions to the society, for the unremitting efforts.