Honor—Jining Mingsheng New Material Co., Ltd. won the first prize of the Ministry of Education's Scientific Research Outstanding Achievement Award (Science and Technology) Technology Invention Award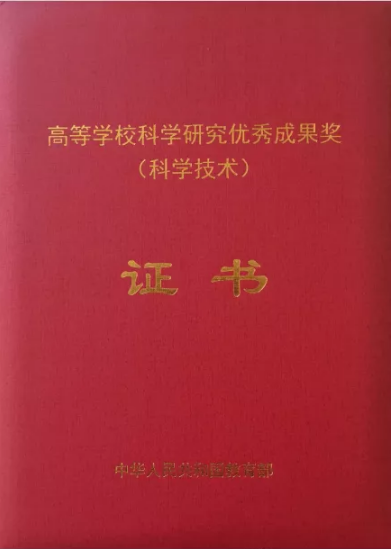 In March 2021, the Ministry of Education issued the Decision of the Ministry of Education on the Award of Scientific Research Outstanding Achievements (Science and Technology) in Higher Education Institutions in 2020. The "Lignin Structure Interpretation, Clean Separation and Industrialization Key Technology and Application" jointly declared by our company, Dalian University of Technology, Beijing Forestry University and other universities and enterprises won the first prize of the Excellent Achievement Award (Science and Technology) Technology Invention Award .
At present, resources and the environment are two major issues facing the world. Among the many natural resources, lignocellulosic biomass is considered to be a natural resource with the potential to replace fossil resources due to its abundant resources and sustainable regeneration. Effective development and utilization has become an inevitable strategic choice for the sustainable development of my country's economy and environment.
Jining Mingsheng New Materials Co., Ltd. is committed to the extraction of various natural biomass materials and resource utilization from natural resources, and has established a multidisciplinary scientific research team consisting of bioengineering, forestry chemical industry, material modification, agronomy, plant protection, etc. , The introduction of a series of "high, precise and cutting-edge" scientific research equipment, using various natural biomass resources, to develop a series of products that can replace traditional petrochemical-based materials.
Lignin is one of the main components of the cell wall of lignocellulosic biomass. Due to the complexity of its structure and the difference in the chemical reactivity of separated lignin, it has been difficult for lignin to be used on a large scale for a long time, resulting in a huge waste of resources. Facing internationally recognized technical problems. The company adheres to the concept of "from nature to nature". A few years ago, it established a biomass material technology research and development center. Committed to the high-quality utilization of natural biomass resources such as lignin.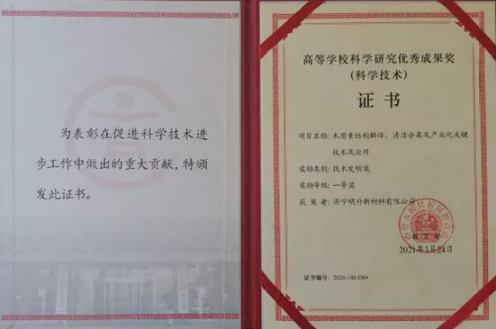 The Scientific Research Outstanding Achievement Award of Colleges and Universities is an important award second only to the three national awards. It mainly rewards units and individuals that have made outstanding achievements in science and technology. Winning this award this time is an affirmation and encouragement of our company's long-term and continuous scientific research and development and technological research by the relevant state departments. The company will regard this award as a greater forward action force, and it will be closer to universities and industry chain partners. Cooperation, taking the development of the comprehensive utilization of biomass materials as its mission, and contributing to the realization of the full-component utilization of agricultural and forestry biomass resources.
Special thanks also to the industry associations, papermaking partners and cooperative universities that provided support to our company in the early stage for their strong support in product development!